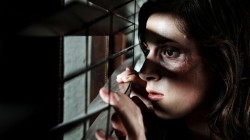 "Tainted Love" exposes the dirty little secret that America is enslaving hundreds of thousands of children as sex slaves. Join the abolition effort as we fight to set them free.
The Facts
• The International Labor Organization estimates that there are at least 12.3 million adults and children in forced labor, bonded labor, and commercial sexual servitude at any given time. Of these, 1.4 million are victims of commercial sexual servitude. Also, 56% of all forced labor victims are women and girls. In the case of all forced labor, 40-50% of persons exploited may be children.
• The average age of a trafficked victim is 12-14 years old, and there are girls as young as 5 and 6 years old in the U.S. that are forced to do sexual acts for economic gain by their pimp. (U.S. Department of Justice)
• In 2005, the Department of Justice reported that there have been an estimated 100,000 to 150,000 sex slaves in the U.S. since 2001.
• 1 in 12 youth experienced sexual victimization, including sexual assault and attempted or completed rape. (Crimes Against Children Research Center)
• UNICEF reports approximately 30 million children have lost their childhood through sexual exploitation over the past 30 years.
Ep 1- Beauty out of Tragedy
Can anything good survive sex trafficking? Survivor shares story about organization that help women coming out of the sex-trade to create products of beauty.
EP 2- A Make or Break
What role does family play in the victimization and the healing of prostituted youth? A psychologist shares how family members comply with trafficking, or benefit from the sex-trade.
EP 3- A Boy's Life
How prevalent are boys in trafficking? A survivor shares his story while activists from Urban Light describe the plight of these male victims today.
EP 4- Booming Industry
Where does sex-tourism thrive? Survivors and experts uncover the international sex industry thriving in massage parlors and brothels around the world.
EP 5- Body, Mind, Spirit
What does recovery look like for today's survivors of sex trafficking? Survivors and experts weigh in on the holistic effects and the journey of healing.
EP 6- The Kids
What's being done to stop the trafficking of minors? This episode features heroes who've gone undercover to rescue kids caught in the sex trade.
EP 7- Cambodia Tale
What countries are making strides against sex trafficking? This episode looks to Cambodia where organizations are making a difference.
EP 8- Thailand Story
How is Thailand working to solve rampant sex trafficking? Victims and experts share about Thailand's culture of trafficking and what hope lies ahead.
EP 9- Indian Times
How is India addressing its sex trafficking epidemic? Survivors and interviewees discuss India's culture of trafficking and its future hope.
EP 10- Take the Lead
What does trafficking look like in the United States? Survivors and activists share their understanding of the U.S.'s culture of trafficking and hope for the future.
Linda Smith
In 1998, while a member of the U.S. Congress, Linda Smith traveled to Falkland Road in Mumbai, India – one of the worst brothel districts in the world. The hopeless faces of desperate women and children forced into prostitution compelled Linda to found Shared Hope International.
Kenneth Kaiser
Mr. Kaiser joined the FBI as a special agent in 1982, after serving as a special agent in the State Department's Bureau of Diplomatic Security. Before retirement Ken was responsible for coordinating, managing, and directing all criminal investigative programs nationwide.
Ernie Allen
Ernie Allen is President and Chief Executive Officer of the National Center for Missing & Exploited Children and the International Centre for Missing & Exploited Children. Through his leadership, NCMEC has played a role in the recovery of 74,000 children, with NCMEC's recovery rate climbing from 62% in 1990 to 94% today.
Dr. Alexis Kennedy
Dr. M. Alexis Kennedy received her law degree from the University of Manitoba, Canada in 1993 and her Ph.D. in Forensic Psychology from the University of British Columbia, Vancouver, Canada in 2004. Her areas of interest include child abuse, sexual assault, body image and prostitution.
Judge William Voy
Every week, Judge William Voy of the Clark County Juvenile Court in Las Vegas holds a special session for underage sex trafficking victims picked up by police in Las Vegas. For years, Voy has been working on an alternative for the girls who appear before him each week on prostitution-related charges.
Samantha Vardaman
Samantha Vardaman is the lead on policy issues for Shared Hope International, coordinating advocacy efforts to further the protection of sex trafficking victims. Samantha joined Shared Hope International in July 2005 to direct the Trafficking Markets in Jamaica, Japan, the Netherlands and the U.S.
Dr. Mark P. Lagon
Dr. Mark P. Lagon has been Executive Director and CEO of the anti-human trafficking nonprofit, Polaris Project. Dr. Lagon is currently on the Board of Directors of the Council for a Community of Democracies, as well as the Advisory Board of ECPAT-USA (End Child Prostitution Child Pornography and Trafficking of Children for Sexual Purposes).
Annie Lobert
A former call girl who founded the international Christian ministry, "Hookers for Jesus," Annie Lobert worked for 16 years as a prostitute and escort. She is now recognized worldwide for her expertise and knowledge of human sex trafficking.
Melissa Snow
Melissa Snow is the lead on rescue and restoration partnerships for Shared Hope International in the U.S. and the world. Melissa joined Shared Hope International in May 2004, and in 2005, and began operating as the Deputy Director of Communications for the Trafficking Markets in Jamaica, Japan, the Netherlands and the U.S.
Jesse Eaves
Jesse Eaves is the Policy adviser for children in crisis at World Vision in Washington, D.C. He was the Operations Manager for Invisible Children in Gulu, Uganda where he worked with war-affected communities to rebuild schools, provide water and sanitation, technology, and improved access to education.
Tina Frundt
Tina Frundt, founder and executive director of Courtney's House is a leading figure in the crusade to help children sexually exploited for commercial purposes. Tina is herself a survivor of domestic sex trafficking and dedicates her life to helping women and children heal from sex exploitation.
Susan D. Roske
Susan Roske is an attorney at Clark County, Las Vegas,  NV. Susan heads the Juvenile Public Defender Program, which provides free attorneys to most defendants in Juvenile Delinquency proceedings.
Megan Clark
Megan is the Vice President of Programs for World Hope, which is a Christian relief and development organization working with vulnerable and exploited communities to alleviate poverty, suffering and injustice.
Bradley Myles
Bradley Myles serves as Polaris Project's Executive Director and CEO.  He has been working on combating human trafficking since 2002. In his current role he oversees all the programmatic, financial and operational areas of the organization, including leading the executive team and liaising with the Board of Directors.
Alexandra Gelber
Alexandra Gelber is the Assistant Deputy Chief of Child Exploitation and Obscenity Section (CEOS) for the US Department of Justice. The mission of CEOS is to protect the welfare of America's children and communities.