Premiering April 22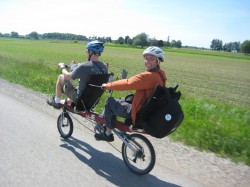 Quirky eco-adventurer, Boaz Frankel, finds 100 unique ways to cross America without a car on a quest for alternative, sustainable transportation.
EP 1 – "Onward From Oregon"
Boaz kicks off his car-free cross country journey on motorized cooler, sweats through car-centric Los Angeles and discovers the walking rickshaw in Chicago.
EP – 2 "Cruisin' To The Capitol"
Boaz uncovers the secret Senate subway in Washington D.C. and dodges alligators on Lake Okeechobee in Florida while stormy seas threaten to wash out the trip!
EP 3 – "Oh, Canada!"
Boaz discovers the future of transportation at MIT, takes to the air in a 1920s barnstormer and finds a biking bonanza in Canada.
EP 4 – "Westward Bound"
As Boaz heads back west, he powers through Minneapolis on a Pedal Pub, jams with a jug band jam on a seven-man bike and wraps up his amazing journey back in Portland on a velomobile.

Boaz Frankel curates a kazoo museum in South Carolina, has surveyed wombat burrows in the Australian bush, and he's a Guinness World Record Holder for high-fiving. He has also been making documentaries and TV shows since 2001. Boaz has never owned a car, though he recently has been thinking about buying a bright yellow electric-assist recumbent tricycle.